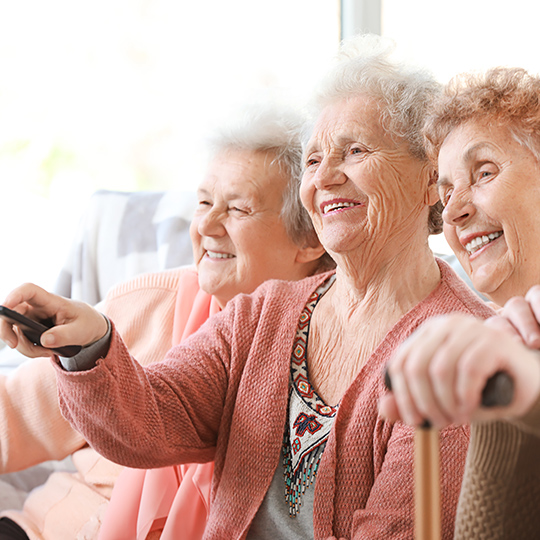 Find Your Comfort Zone at The Legacy of Farmington
The Legacy of Farmington is an environment where you can make the most of your retirement. Our friendly surroundings and qualified staff let you stay comfortable while exploring your interests. All of our activities and services are easily customizable, providing all residents with opportunities for fulfillment.
See more of what our community has to offer. Contact us today and book a tour!
Featured Community Services
What Is Enriching Connections?
Our Enriching Connections program trains Memory Care staff to work with individuals who have dementia. Our nurses, managers, and other employees learn to identify each resident's distinct needs so we can create custom wellness plans. These wellness plans improve our residents' safety and comfort so they can continue to live as independently as possible.
Enriching Connections is based on 7 key values:
Relationships & Community: We create a welcoming environment that supports rewarding social interactions.
Commitment: Every member of our Memory Care staff is actively involved in providing high-quality care for our residents.
Certification & Training for Staff: We ensure all Memory Care staff members are certified by the Alzheimer's Association and provide additional Memory Care training.
Services: Our nursing team works closely with residents and their families to devise effective wellness plans for every individual.
Meaningful Life & Engagement: We use our Wellness Wheel values to improve life for residents.
Environmental: We ensure that residents with physical and cognitive needs of all kinds can access our facilities easily and enjoy them safely.
Accountability: We continue to evolve our care and services to reflect the priorities of residents and their families.
All Memory Care staff members receive a certificate of completion upon finishing their Enriching Connections training. Their certification shows that they can provide excellent care and services to seniors with dementia and other cognitive challenges such as Alzheimer's.
We support our medical services with a variety of recreational therapies. These therapies are included in our Integrative Health program and supplement our other care programs:
Essential Oils: These aromatic oils are naturally-derived, and may help promote relaxation. Those with anxiety, pain, or nausea often use essential oils. They can also positively impact memory, mood, and learning.
Hand & Foot Massage: This soothing form of touch helps release tension and stress. We frequently combine our massages with essential oils to create a more immersive atmosphere.
Healing Music: Some rhythms and melodies often put people in a more peaceful state of mind. We choose specific music and schedule live music performances to encourage relaxation.
Guided Imagery: Experience the power of your mind by concentrating on specific mental pictures. These sessions can bring clarity, focus, and relieve anxiety, insomnia, and pain.
Energy-Based Healing Modalities: Reiki and other forms of healing touch are popular among those who seek relaxed, energized states of being. We invite experienced practitioners to our community so they can administer these services.
Our community life staff perform all Integrative Health services under the supervision of trained nurses. If you have questions about how these services might benefit you or a loved one, contact us and speak to someone who can help.
Inspire Wellness for Life
All of our residents are unique in their own ways. We encourage them to embrace their individuality and what makes them who they are. Inspire Wellness for Life is a program designed to help our community members maintain a positive quality of life. The program is based around the 7 Dimensions of Wellness, our guiding principles that act as the foundation for everything we do at Tealwood Senior Living.
Our guiding principles are:
Physical: Choosing to live a healthy, active lifestyle
Spiritual: Living with meaning and purpose
Social: Interacting daily with others
Emotional: Awareness and acceptance of feelings
Intellectual: Engaging in creative pursuits
Vocational: Expressing yourself through talents and passion
Environmental: Respecting and caring for our surroundings
Inspire Wellness for Life helps enrich our residents' daily lives to improve cognition, reduce pain and falls, and diminish depression symptoms in a uniquely beneficial way.
Our Enhanced Care program gives the support needed to our residents who require an enhanced level of care. Through extra-attentive staff, devices, and daily monitoring, residents experience all the comforts of home with the 24/7 care they may require.
Our Enhanced Care services include:
Advanced respiratory services: Oxygen management, nebulizers, CPAPs, and BiPAPs.
Enhanced medication management: Diabetes management, coordinating lab results, overseeing medication changes, and adjustments.
Altered diets: Including pureed and mechanical soft diets.
Mobility assistance: Using mechanical assistive devices or two-person transfers.
We offer support for individuals looking for a short-term stay. Our Respite & Recovery program is a perfect fit for those needing a place to recover from an illness or injury or simply want to try out community living before fully committing.
The program offers all the same amenities a full-time resident receives so they can focus on recovery. Since Respite & Recovery is only available for short-term stays, customized packages can include:
A fully furnished suite
All utilities, except phone
Optional meal plan programs
Access to housekeeping and laundry services
Emergency response team
Group activities
24-hour on-campus staff
Continuous wellness checks
Assistance for personal care, such as bathing, dressing, toileting, grooming, eating, and moving
Medication administration and set-up
Nurse supervision and monitoring from trained staff
For our residents with cognitive impairments, the stability and familiarity of routine are crucial for maintaining a sense of normalcy. The 8-8 program gives residents a structured daily routine without ever sacrificing an engaging and enjoyable lifestyle.
We design thoughtful daily activities so residents remain safe and in control, which has shown to positively affect state of mind, security, and sleep patterns.
Medication can cause a myriad of issues for residents without proper supervision and administration. Errors and overuse can lead to dependency or other significant problems, so we work with TotalCare Pharmacy to ensure each medication plan receives thorough, quality review.
It's important that our community members have access to customized medication benefits tailored to their specific needs. We aim for our residents to be comfortable, happy, and above all, healthy.
We want the best for all of our residents. That's why we partner with physicians to provide onsite primary care. Visiting physicians allow you to get the medical care you need from the comfort and security of your own home.
Tealwood Senior Living aims to make our residents feel comfortable and fulfilled, no matter what stage of life they're in. We have partnered with hospice care agencies across our organization. These partnerships allow you to make the most of your time with an ill loved one without worrying about their day-to-day needs. Tealwood is here to provide comfort, convenience, and support during this difficult time.
Other Services
All residents in our community have access to the following services:
Daily chef-prepared meals
Weekly light housekeeping
Licensed nursing staff onsite 24/7
Daily wellness check-ins
Onsite maintenance
Custom wellness programs, based on our Wellness Wheel
Additional personal care services
24/7 building security
And more…
Community Amenities
All residents have access to our shared amenities:
A pub room & bistro
A cozy fireside lounge
A community room for socializing and recreation
A fitness room for exercising
A grand bath (including a whirlpool spa)
An on-campus salon
A library for quiet reading and studying
An enclosed outdoor courtyard
Attached garage stalls
And more…
Why Choose The Legacy of Farmington?
How to Find Us
Finding us is easy, and we look forward to showing visitors around our community. We are located on Denmark Avenue, near the picturesque Dakota City Heritage Village.
Email Us
Our Address
22300 Denmark Avenue
Farmington
,
MN
55024